I'm skipping yoga for this so you know it must be good.
Where to start?
Right with the good stuff?
Or maybe with a quote?
Yeah…
This quote means a lot to me. Not just because it keeps turning up in my life — remember how last week I watched Cinderella Story…
Creepy!
Anyways, it reminds me of an epiphany I had. Today's session with my therapist brought up the ideal of beliefs. In particular, false beliefs. And after the session, where we worked through some of the things I tell myself that are just downright wrong but that form so much of how I treat myself, how I view the world, and all that good stuff, I had a couple of other realizations. Good session, much?
Now I'll dive right into it–what does fear have to do with fro yo?
…well. Tonight I was going to meet some friends for fro yo. I had in my mind that I would be A OK and that I just wouldn't have any since I am trying to lose weight.
Logical enough, right?
Wait, W T F Cheryl?!
Something's up when I'm telling myself I need to lose weight and accepting it at face value….
As recovered as I am, as much as I want my weight to be "happy" and to take care of itself, I still have a belief about myself that says I need to lose weight. And regardless of whether or not this is true, it informs everything I do. Yes, I am free from ED, but I am not free from this belief and I have a feeling that the belief has been around longer than ED and that it's something I need to work through if I really want to live the life of my dreams—and since I'm not ready to settle for anything less than that, here goes! It's like if I give up this belief, if I start to trust that I really AM awesome already, I'll be doing something wrong. But that's wrong–there's nothing great about settling.
One thing my therapist did to help me bust through my beliefs was to ask me what it would look like if I still believed them in 5 years. So with this one, how will my life look in five years if I still think I need to lose weight? What might I miss out on? It's kind of sad. Maybe I'll get a job, maybe I'll get through nutrition, maybe I'll feel like a phoney because shouldn't dietitians have this weight stuff under control, maybe ED will still be lurking around the corner, maybe I'll still feel unattractive, maybe I'll still be single, maybe I'll still devote my energy to managing my weight instead of finding and pursuing my purpose, maybe it will be just okay.
And today/in my current life, the belief that I need to lose weight is dangerous. It keeps me on the edge of relapse, wanting to restrict, saying that it's okay to skip a meal here or there and eat frozen yogurt instead (and then questioning how it's ever possible to allow myself to have it on top of dinner?), adding extra training into an already solid training plan, working out through injuries, not giving my body the fuel it needs, leaves me feeling unattractive, sets me to self sabotage when I do eat something I think is "bad" or won't help me "lose weight", saying no to invites and thus missing out on experiences etc. etc. etc.
In short, it leaves me living a half assed life.
Conversely, how awesome might my life look if I decide that I am perfect the way I am and start really walking the walk (not just talking the talk). In five years, I might be a dietician with a successful practice working with athletes who struggle with their own body image, I might have written a book about all of this, I might be a regular contributor to magazines out my whazoo, I might be qualifying for Kona, I might have a boyfriend, I might love my body and think of myself as beautiful, I might be the person I want to be! …yeah, I dream big. Change those "mights" to I will, and I think I have a plan.
And in the short term, it's not might. It's will. I'm changing the belief. So tonight instead of believing that I need to go to yoga because it's exercise and I should exercise more because I need to change my body, I am going to believe that I need to listen to my body, recognize that I've already worked out a lot today, and save the yoga for when I'm fresh. I'm going to take the time to write this blog post and then I'm going to meet up with friends and eat fro yo even though I had dinner. I'm going to wear my clothes that fit right now and make myself look good in them instead of wearing gym clothes and telling myself I'll wear my "real clothes" when my smaller stuff fits. I am giving myself permission to be happy regardless of my weight and am going to really take to heart that advice that I like to give: if you are healthy in your actions, your weight will end up where it needs to be.
Basically, what if I change my belief so that I truly believe that I am exactly the weight I need to be? Instead of whining about feeling like I "deserve" to look fitter or to be smaller, what if I accept that this is what my body wants to weigh and give myself credit for running, swimming, biking, and doing yoga like a boss (shout out to Kate on that one). And if I treat myself differently for it — allow myself the rest/recovery I need, give myself healthy meals, have room for frozen yogurt and treats, and exude happy cuz that's what I am — isn't that kind of more important than being a size 4? If I go out with friends, sleep in, go on road trips, and smile the whole time — isn't that kind of the point of life? What if I already deserve all that?
I've read a lot about how letting go of your need to lose weight will set you free and you will find your happy weight. I really thought I was doing it, but I kind of had the realization that I was just faking it. Maybe half-assing it. And I don't believe in that! Already I've noticed the ways that this belief plays out in my life: telling me that I should  go to yoga and that I should just meet my friends at the yogurt place but not have any. And that's huge–consciousness has to come first! And I'm ready to take action, because to be honest, this belief hasn't gotten me anywhere in the past except frustrated and unhappy regardless of what the scale says. That's the kicker. When your whole belief system says you need to be lighter or that you are somehow wrong, how could you ever be happy, regardless of how small or big your butt is? When you shift that belief and really believe that your body is perfectly perfect the way it is, I am guessing you find that blissful happiness and confidence that has been so elusive for so long.
And I'm rambling. But I'm letting it all out because I'm dedicating myself to actually changing this belief. It's not really easy to change something that I've believed for as long as I can remember (recall diaries from when I was 9 talking about how I was going to lose weight), but I kind of feel like I've stumbled onto a huge realization here that's going to just catapult me into awesomeness.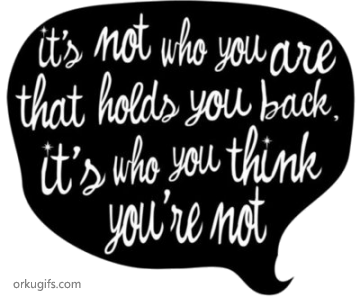 But NEWS FLASH: we are meant to be awesome, happy, and to love ourselves! I'm done holding myself back and keeping myself miserable. It's time to get happier.
It all reminds me of, Life Doesn't Begin 5 Pounds From Now, a book I read a long time ago that I think might need to come off my bookshelf now. And of a whole bunch of quotes about seizing the day, living your life, and all that good cheesy stuff.
Here goes…
And sigh*
What kinds of beliefs do you have about yourself that might be limiting?
Did you follow this post at all or was it too much word vomit?