Well hello there!
Today's the first day that I am not riding my bike — and it feels weird! My butt is grateful and I'm enjoying a leisurely morning — hence blogging, drinking coffee while my family sleeps, and trying to catch up on my emails/comments/etc. with a sort of slow internet connection.
To save myself pulling my hair out, I'm going to keep you all on the edge of your seat for the photos from yesterday's finish and just tell you about it instead…
Yesterday we started from Lake Louise after a nice and leisurely breakfast. The name of the game was leisure yesterday and I'm just progressively relaxing more and more…bring on the recovery!
We literally rode all downhill as I mentioned yesterday. There was a little bit of climbing but gosh it was nice to have gravity on our side! One of the fellows on the trip, Andrew, and I rode the first 50km at a faster pace and took turns pulling for a km each 'til we got to the lunch stop. We were moving pretty well and did that 50km in 1:32 minutes — which for me is speedy, hills or no hills! I'll take it.
At lunch we celebrated the tour with champagne and our tour guides gave us tshirts and congratulations and all that fun stuff. And by fun I mean sad, because I wanted to cry! This was definitely the best vacation I've been on and perhaps the best week of my life. That's not me trying to exaggerate–that's me being totally honest. I got to spend time with a really diverse group of people, ride my bike in the prettiest place in Canada, and to totally break free from my day to day routine.
The last 10km into Banff were leisurely–savouring the moment, you could say. I can't wait to show the rest of the pictures because yesterday was no exception to the beautiful norm and because my tour guide shared his photos from during the ride. We saw no bears yesterday but we did see an elk!
The finale and the ride into Banff were as I said, just perfect. Saying goodbye was sad but the owner told me that if I ever wanted a summer job, I'd be a great tour guide. He said since I never stopped smiling and that they need positive people like me, I'd be a good fit. Ummmmm…AMAZING! Because the week wasn't ALREADY perfect, that just capped it off!
One more thing to add to my list of "what I wanna do/jobs that don't feel like work/ways to be epic" –
!
And the day got better because after my family picked me up and we checked into our lodge, I got to go on a little shopping spree. Lululemon, don't mind if I do. I got some compression socks, a backpack, and this jacket (which I am not sure if I can justify, but I can always return it later if I decide no when I get home)…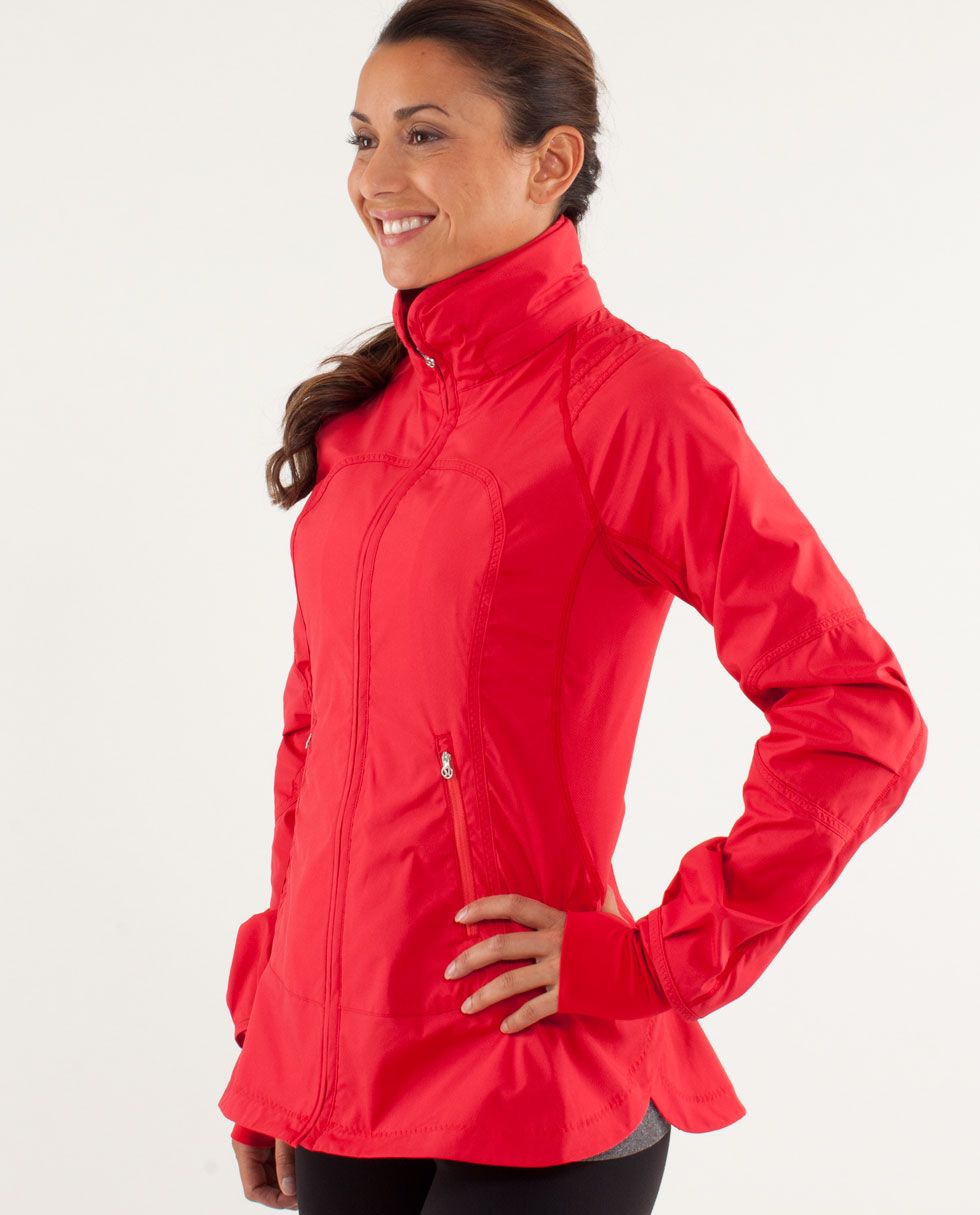 And then bring on my fav dinner.
Last night we ate at the Grizzly House. It's a really fun restaurant – things start out delicious with salad and then a cheese fondue. I always ask for veggies to dip in the good stuff instead of the standard bread. Yesterday was no exception to the deliciousness…
Then comes the fun—and the reason why you leave the place smelling like meat! They bring you a hot stone and your plate of meat and some garlic butter and you get down to work. Add in a plate of sauces to choose from and you have pure awesome right in front of you. Is it sick that I love this place so much?
No, because there's also chocolate fondue and I think they replace the toblerone with cocaine sometimes because I swear it does not matter how full you think you are, when there is melted chocolate and cream and then a whole variety of delicious vessels with which to get that chocolate to your mouth (not to mention spoons), you can fit dessert! We also had espressos (aren't I sophisticated now?). I'm not going to life – the beer, veggies, meat, chocolate – it was maybe even more delicious than the night before's amazing dinner but left me fullllll! Luckily all we had to do last night was play UNO (family tradition) and sleep.
It's a rough life…
Today is another tough day. We have late afternoon spa appointments – massage and pedicure to wrap up a perfect week sound okay? I think yes!
This morning I'm LOVING the sunrise behind me and the chance to just sit and let things soak in. My legs are loving that I didn't compulsively run up and down the mountain OR go force myself through something in the lodge's workout room. I did think about it – but then I remembered how much I biked this week, thought about how far I've come, and realized I don't need to fall back into that eat lots/work it off mindset. The reminder that this trip was abso-freaking-lutely perfect and that I deserve all of this awesome-ness helps too! Tomorrow I'll be back in Ontario, so I might as well be open to all this now while it's here and erase guilt from my mind, replacing it with gratefulness. In the past, I'd feel spoiled—but now I feel special.
And here come some cheese, cuz I'm in that mood:
What are you up to this weekend?
Where's your favourite place to go on vacation?
PS – don't forget to check back — the photos are worth it!