Cookies. Cakes. Muffins. Pies.
They sound delicious, right?
A few years, or even a year ago, I might have chosen "terrifying" as my first descriptor. If you've known me for a long time, you've probably eaten a cake or some kind of treat from me (apologies if not)…
I used to love baking, and I still love making a mess and decorating cakes in the shape of whatever I think will make someone smile, but things have certainly evolved. In high school, I'd bake extravagant goodies–I remember one recipe I constantly made for dark chocolate brownies with white chocolate chips, which I always topped with a fudge ganache recipe I mastered–but I never ate them.
I shouldn't say never. 
Desserts and I have a complicated history.
There were times when I'd let myself sample my creations. By sample I mean eat the "broken parts" — you know, the ones without calories. Or I'd "edge" things like loaves or bars–working on the corners. I'd slice off part of a cake or a loaf of banana bread. But I'd never ever be caught dead eating it off of a plate. My reasoning? I was either "too fat" to deserve it, or when I was at my thinnest, it'd be a risky thing to have a treat–just the first step in "letting myself go."
I also I went through a stage with desserts where I'd allow myself to have them but in a very specific way. For a long time, if I stuck to a healthy plan all day, I'd eat them at night. I can remember a cake waiting at home for me being the highlight of my day. I can remember not being able to think about anything else, "saving up" calories for that treat, and then inevitably overeating when I finally got around to it.
I distinctly remember being in bed with a plate of turtles cake, a scoop of chocolate ice cream, and a racing mind: Is this making me fat? Should I be eating before bed? As worried as I was, I'd head back down to the kitchen and edge away at the darn thing. Somehow, a tray of brownies would disappear in a matter of two days even though I'd only actually enjoyed two brownies.
I also distinctly remember deciding that I could not be trusted around goodies. I can't count the number of times I've thrown things out. The worst was when someone would give me a treat. I can still picture cookies, cakes, muffins, cupcakes, and other goodies tossed into the garbage out of fear that I would binge on them. I went through a period of allowing these things to be brought into my house, but I still ate them in very controlled ways–or emotionally, in a binge, or standing up. Even a few weeks ago, a bunch of muffins given to me were "too much" for me to handle. I ate part of one in a hurry, not sitting down, not enjoying it, and then decided that the rest had to go. So go they did, into the garbage.
Sad.
Not ideal.
Fast forward to today: A new friend from the gym generously shared her freshly baked paleo banana bread with me. I sampled some this afternoon to tide me over between meals (side note: it was delicious!).
Later, Chelsea brought me a hug and some coconut chocolate cookies (also Paleo, also delicious). I ate one on the spot.
After my first bite, I realized not only were they delicious, but something awesome was happening. I was eating a cookie at 3:30 on a random day. It wasn't a cookie that I ran a long run to earn. It wasn't a cookie that I was eating in place of a meal. It wasn't a cookie that I even knew was going to be part of my life until Chelsea popped in…
I'm sure Chels will love this–but that might have been the best cookie of my life.
Intuitive eating has been a longtime goal of mine. I've known for a long time that I've wanted to free myself from worrying about food. It's one thing to care what you're eating–we should all aim for fuelling ourselves optimally–but it's absolutely freeing to, within knowing what's good for you and what's reasonable, be able to just eat.
It's really cool that when someone gives me a treat, I can eat it. It's really cool that if I want to eat brownies, I can make them and eat one–not seven. It's really cool that after dinner tonight, I wanted chocolate so I had some. No "sneaking" (AKA serving up more than enough chocolate topped with a hefty dose of guilt and shame). It's really cool that Chelsea's cookies and Megan's banana bread are sitting in my kitchen and the only reason I'm thinking of them is to share this with y'all.
There's nothing wrong with eating treats. There is something wrong with letting food control you. There is something wrong with making things and giving them away and not being able to eat them yourself. There is something wrong with restricting, bingeing, obsessing…
I'm tearing up a bit as I write this. Maybe losing my grandma was a final reminder, a slap in the face of sorts to put it into stone: food is just food.
It's a slap in the face, sure, but it's also a tap on the shoulder and a reminder that I can conquer my demons–whatever they are. If you'd asked me before if I thought I'd be able to handle treats like this with a smile on my face, I'm sure I'd have had my doubts. It's hard to imagine being free of something that literally drives you crazy when you're in the midst of it. The number of times I'd gotten "into trouble" with cookies or the like would have put a dent in my self esteem…
So all those little things I beat myself up over now–my nut butter addiction, my caffeine dependency, my habit of eating standing up–are just things I'm dealing with and figuring out.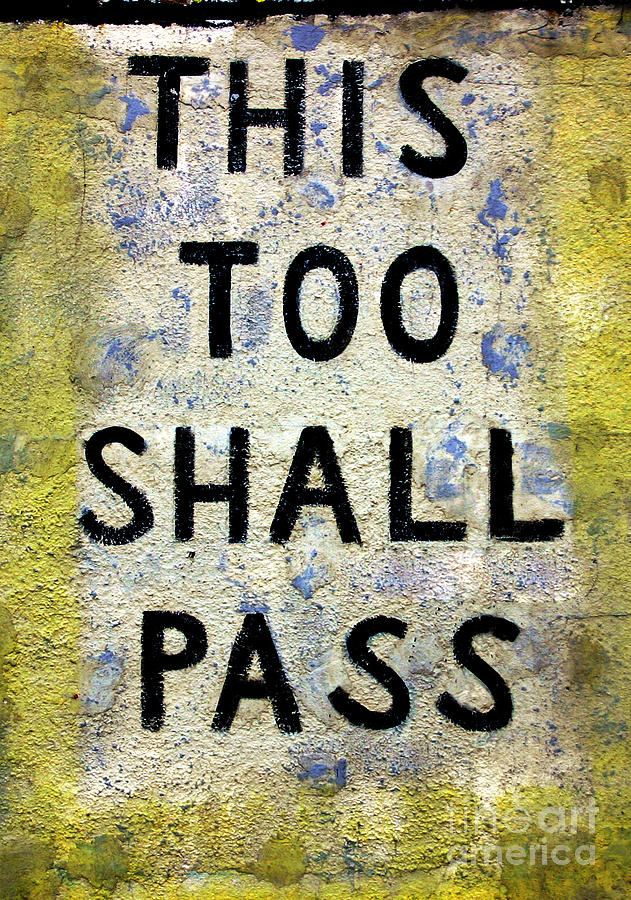 Like I said, these are little things. Sand, if you will, or maybe pebbles. But while they're little things, they've longtime masqueraded as big things, and I don't think I'm alone with this. It might not be cake or cookies–maybe it's potato chips or ice cream for you–but I know there are other people who have it in their mind that food has power over them. I know there are plenty of people who doubt that they'll ever get over their emotional eating issues, their bingeing tendencies, their restrictive habits.
To them I say this: what if this were alright? What if all those past "mistakes" were steps on the road to freedom? When you actively decide to leave your shit behind–whether that means decide that you want to recover, that you want to stop overeating, that you want to get healthy, whatever–there's no doubt that it will happen. You just have to let it.